Phu Yen is an attractive destination which isn't still impacted a lot, there are not many visitors who know this place to give a visit. It's getting more popular with many Vietnamese young people who like to explore new places. This place is not only famous about beautiful landscapes, but also about the diversity of cuisine culture. If you are making a plan to visit Phu Yen, let's see and try to experience the cuisine as much as you can.
What to eat in Phu Yen?
1. Banh hoi – fine rice vermicelli  
Banh hoi is made from rice flour with meticulous and complicated process. This characteristic food looks so strange, it is combined with chives, pork and the tasty local fish sauce. In addition, pork can be used with porridge and this kind of fish sauce. Both of it are also good and delicious. The price is so cheap – only with 30.000 VND, you will have a big meal to make you full enough.
2. Banh beo – Vietnamese savory steamed rice cake
Banh beo is a famous local cake in the countryside, it is made from rice flour and by clever and meticulous local people. Chives, dry shrimp are the important materials for this food. Fish sauce is always available and no matter where you are going to try it, fish sauce is also tasty. Don't miss it, you may like it, it will be probably one of your favorite foods in Phu Yen.
3. Nem nuong – grilled meat roll
Coming to Phu Yen, you should try this food. You may see it somewhere in Vietnam, but it will be more special to try its original taste in the Middle, especially in Phu Yen. The main ingredients are pork (is marinated with many spices such as sugar, salt, fish sauce…), some kinds of vegetable, carrot pickle and tasty local fish sauce to make it attractive and delicious. Using rice paper to roll all of them is the best way to enjoy this food.
4. Banh Xeo – Vietnamese crepe
Banh Xeo is also a special food from countryside that many local people love. Many people like to make it at home in their free time. The good one can be crunchy for a while, it depends on the way they make it. Some kinds of vegetable and local fish sauce are the main ingredients of Banh Xeo.
Local people usually have it in the morning or evening, stay somewhere on the street and also enjoy the peaceful countryside. It is so great. You can find it everywhere in Phu Yen, not only in the city central. Don't be shy to try somewhere on the street to experience different feelings.
5. Banh canh he – Chives soup noodle
Banh canh is a kind of noodle in Vietnam, it is made from rice flour or finest flour, you can choose one of them or try both to feel the difference. As the name, chives is the main ingredient that make this food special and characteristic through its flavor. In addition, fresh fish cake in this beach region make the soup sweeter and tastier.
Let's try this special local food, don't miss it.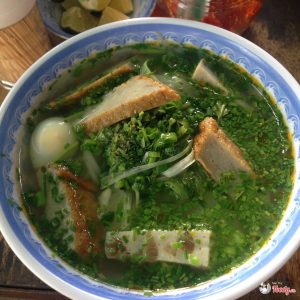 6. Chicken rice
In Phu Yen, chicken is fed in gardens, not like industrial chicken, so the chicken meat is firm and tough. The combination between good fish sauce and chicken rice is so delicious. Let's try to feel its great taste.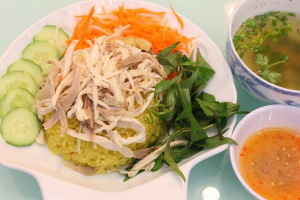 7. Lau ga la e – Chicken hotpot
"E" is a very popular plant in Phu Yen and its leaves are used as the main material for this kind of hotpot. This kind of leaf make the soup of hotpot tastier (sour and sweet). This food is so famous everywhere in Vietnam, so it is much more delicious if you can try its original taste in Phu Yen. Don't miss it, let's try.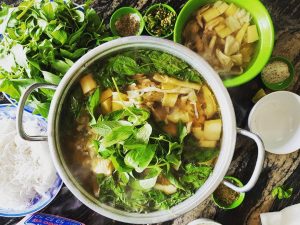 The cuisine of Phu Yen is so diverse and interesting. If you have a chance to visit here – beside seeing beautiful landscapes, you will be also excited to experience many kinds of local food which are only in Phu Yen. Don't hesitate, let's make a plan to visit Phu Yen and try as much as you can.
View more: Amazing Tourist Attractions When Visiting Phu Yen
[ux_products style="normal" width="full-width" slider_nav_style="circle" slider_nav_color="light" slider_bullets="true" auto_slide="4000″ equalize_box="true" cat="454″]