Since "famous" by the movie "Dear Brother" ( Toi thay hoa vang tren co xanh) so far, Phu Yen is always a favorite tourist destination of many visitors. Many people come to Phu Yen to admire the vast rice fields, green lawns and forget that this coastal land has many other beautiful places to explore. Phu Yen is a land of prosperity nestled in the middle of Central Vietnam, with 3 sides bordered by mountains and 1 side bordered by East Sea. If you are planning to explore Vietnam, do not miss this beautiful place in your Vietnam vacation.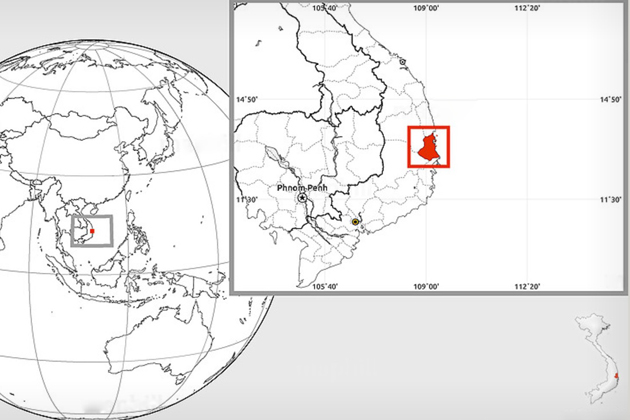 Phu Yen Attractions
Mon Beach – Mui Dien (Dien Cape)
The charm of Mon Beach comes from the wilderness, the quietness, the comfort, and the freshness that it brings to anyone who comes here. The rocky flat surface combined with the clear blue sea makes Mon Beach become one of the most beautiful beaches of Vietnam. Besides, Mui Dien lighthouse is known as the first dawn of Vietnam – the easternmost point of the country. Although there are controversies about this now, it is temporarily overlooked, it must be recognized that watching the sky change since the sunrise of Dien Cape should be noted in your Phu Yen tour itinerary.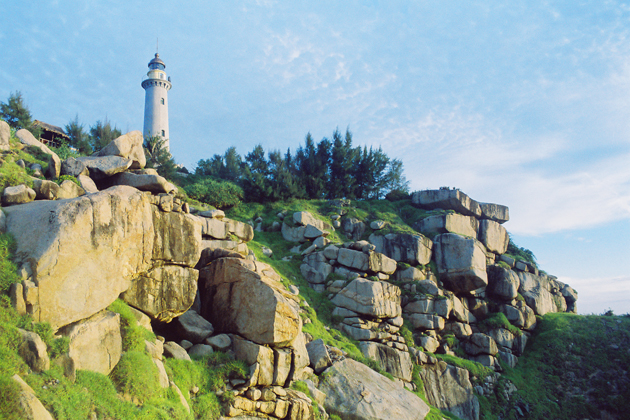 As Vietnam's earliest dawn land, you have to prepare early, otherwise, you will not be able to see the sunrise. Normally, if you do not sleep at Mon Beach (at the foot of Dien Cape), you have to depart from Tuy Hoa at around 3:30 a.m. Because when you travel to Mui Dien, you will have to climb a mountain road ( a step ladder) more than 1 km to the lighthouse.
Entrance fee: VND 20.000 (for an adult) and VND 10.000 (for a child)
Ghenh Da Dia (Da Dia Reef)
With the structure of the rocks stacked like a giant honeycomb created by the hands of Mother Nature, Da Dia Reef is always a famous place, not only for its beauty but also for the view when standing here, which allow tourists to enjoy the vastness of the sea and sky.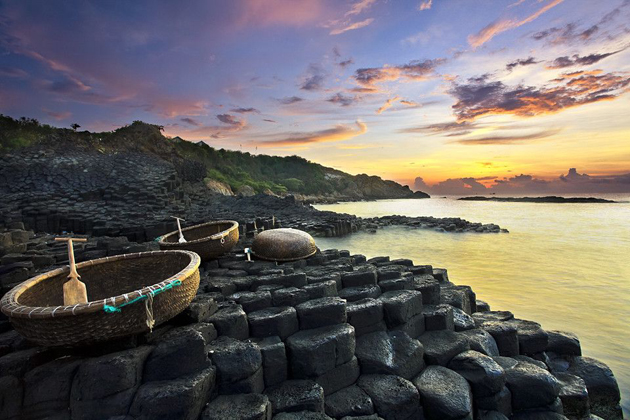 Ghenh Da Dia, which is more than 30 km far from Tuy Hoa city, Phu Yen Province, was recognized as a national natural attraction in 1998. Located right next to Ghenh Da Dia is Bang beach with a white sand spread out into an arc. It is also an exciting entertainment venue with fun beach activities and camping.
Entrance fee: VND 20.000 (for an adult) and VND 10.000 (for a child)
O Loan Lagoon
O Loan lagoon is about 1200ha. Take the view from Quan Cau Pass, it looks like a magnificent phoenix spreading wings. O Loan Lagoon is the most beautiful at sunset when the sun slowly falls to the sea and hides behind the mountain ranges and fishing villages.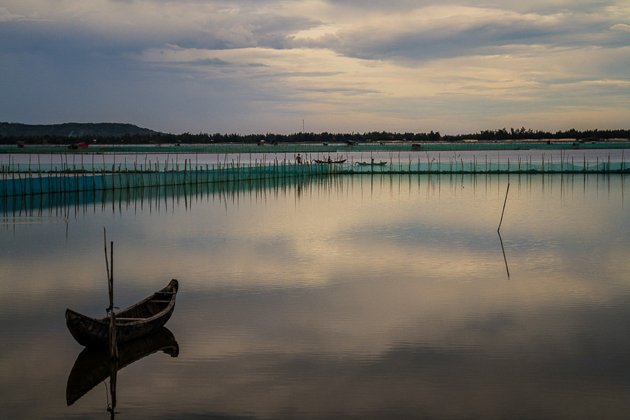 In O Loan lagoon, visitors must definitely try blood cockle – a kind of seafood is considered a famous specialty associated with this place in Phu Yen. The blood cockle in O Loan Lagoon is large, fresh and specially processed in place.
Van Hoa Plateau
Van Hoa plateau belongs to Son Hoa district, Phu Yen province and is located at the height of 400m. Mountainous terrain with sun, wind, and fog, vast trees will make you feel like you are lost in another Dalat, Vietnam. Specialties here include jackfruit, pineapple,…. These fruits are brought from  Van Hoa plateau to the markets in Phu Yen and sold the most in Don market.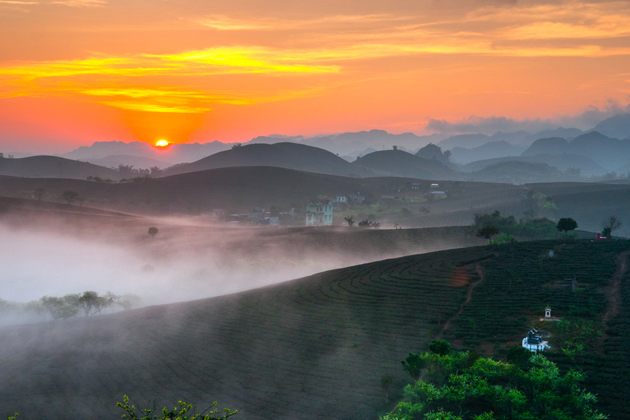 In Van Hoa Plateau, there is also the relic of Uncle Ho House of worship and the Phu Yen province base, which has been classified as a national historic site in 2008.
Xom Ro Breakwater
Xom Ro breakwater has emerged as a new tourist destination of Phu Yen since the beginning of this year, where the breakwater suddenly blossomed with green moss, creating a wonderful landscape. When the tide is down, the breakwater emerges with the gleaming green, shine under the sun that creates a scene that many people who passionate photography cannot ignore.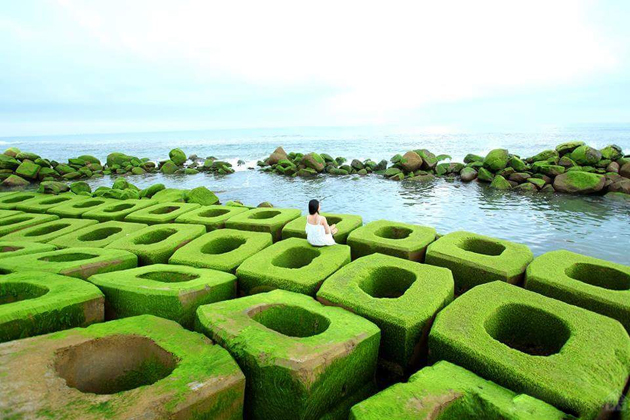 Visitors, who want to reach this particular breakwater area, must go from the city center to the South, across the Hung Vuong bridge then go a further section to the sea.
Xep Beach
Located in the north of Tuy Hoa City, Phu Yen Province, about 500m long, Xep Beach is a beautiful, pristine and peaceful place. This scene was once beautifully filmed on Dear Brother movie ( Toi thay hoa vang tren co xanh). From the Ganh Ong cape looking down, visitors will see the peaceful and charming Xep Beach, the lush green of the grass on the prairie with the crystal blue of the water and the strong cactus which create an amazing tourist site of Phu Yen.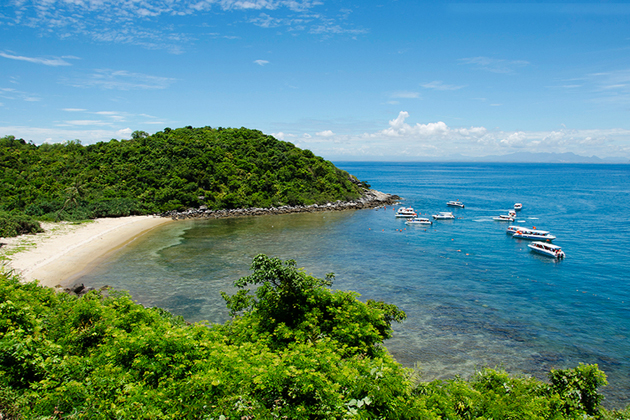 Dong Cam Dam
Located in the west of Phu Hoa district, Dong Cam dam is 688m long with two canals, the North and South canals irrigating the whole Tuy Hoa rice area of 220 km². Dong Cam dam is a project with a high technology and aesthetic value. The dam has economic, historical significance along with beautiful landscapes and unique architecture.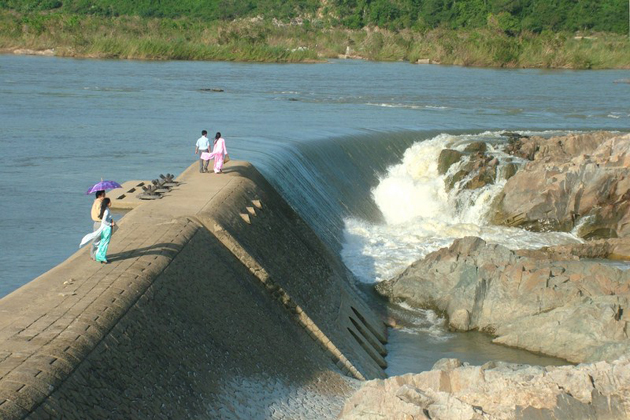 Mang Lang Church
Constructed in 1892, the church is considered one of the oldest churches in Vietnam as well as Indochina. This is a favorite tourist attraction of Phu Yen. In the past, Mang Lang Church was once the home of Bishop Alexandre de Rhodes and it is also the home of the first Vietnamese national book.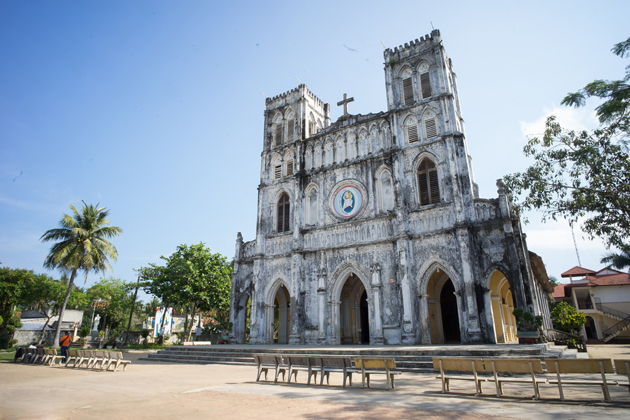 Phu Yen Travel Guides
Best Time to Travel Phu Yen
Phu Yen climate has two distinct seasons. The rainy season is from September to December. Therefore, you should travel to this land in the dry season of when rains can no longer interrupt your Phu Yen tour. You also can arrange to come to Phu Yen at the festivals.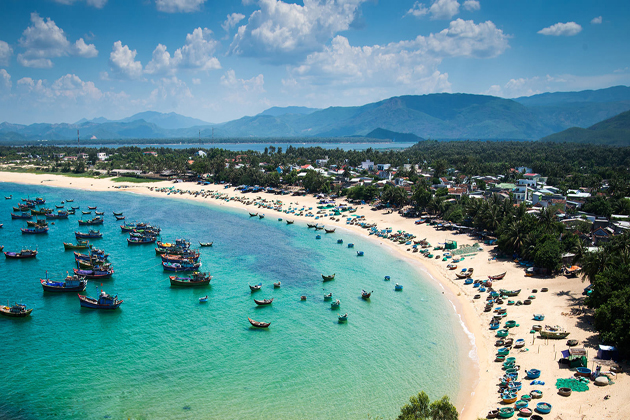 How to Get to Phu Yen
As a province located in the South Central Coast of Vietnam, it is a great option for you to choose Phu Yen as an additional destination in your Ho Chi Minh City Tour. You can reach Phu Yen easily by train, plane or bus.
By Bus: You can buy a ticket at East bus station, Ho Chi Minh City. Prices from 180,000 to 300,000 VND/ ticket.
By Train: From Ho Chi Minh City, you can go to Phu Yen by train SE2 and SE4. You should take the night train to reach to Phu Yen in the following morning.
By Airplane: You can fly from Hanoi or Ho Chi Minh City to Tuy Hoa City, Phu Yen Province. The flight information can be updated on the website of some Vietnamese airlines such as Vietnam Airline or Vietjet Air. The airport is located 10 km from the city center so you have to take a taxi to move on.
Phu Yen Accommodation
Tuy Hoa City, Phu Yen Province is not a hot tourist spot like Da Nang or Nha Trang, so the room price is not expensive, it is about 150,000 – 300,000 VND/ room depending on the type. You should book your hotel room in the city center on the Hung Vuong, Nguyen Hue, Tran Hung Dao, Tran Phu, Doc Lap streets… From here you can easily rent a motorbike or taxi to the famous tourist spots above.
Source: Vietvisiontravel
Best time to visit Phu Yen
The climate in Phu Yen is tropical. In winter you can experience temperature in their high twenties ant there's much less rainful than in the hot summer months. But it's nice to visit Phu Yen all year round.
View more:
Amazing Tourist Attractions When Visiting Phu Yen
What to Eat When Visiting Phu Yen
[ux_products style="normal" width="full-width" slider_nav_style="circle" slider_nav_color="light" slider_bullets="true" auto_slide="4000″ equalize_box="true" cat="454″]